※Click images to enlarge.
The giant FABTECH 2014 was held at the Georgia World Congress Center in Atlanta, Georgia from November 11 to 13. It is one of the biggest metalworking events in North America and is held in a different city in the USA every year. 1,400 exhibitors displayed their wares in the 46,500 square meter exhibition hall, which drew as many as 27,000 participants from all over the world: North America, Central and South America, Europe, Asia as well as Middle East.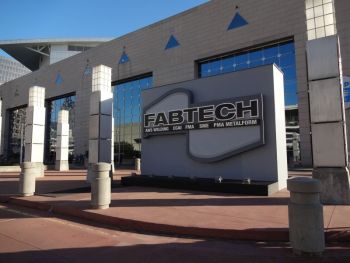 The entrance to the FABTECH exhibition, held at the Georgia World Congress Center
During the exhibition, more than 100 sessions were held in which the latest trends and metal-processing technologies were discussed by many specialists. Mr Jody Fleddermann, the President of Precision Metal-forming Association participated as panelist in one of the panel discussions.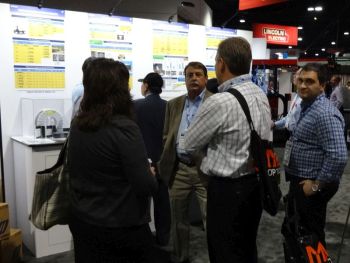 The Kobelco booth, crowded with interested people
Kobelco Welding of America Inc. (KWAI) was a participant - for the twenty-fifth time in a row. This year, we featured a redesigned booth in which the panels of Kobelco welding consumables were displayed by industry such as energy, automobile, shipbuilding so that visitors could easily understand what we intended to show.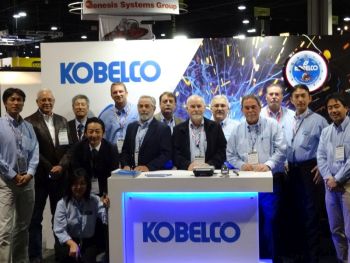 Attendees posing in front of the Kobe Steel booth (Mr Yanagimoto, first from the Right)
Flux cored wires (FCWs) for stainless steels, KWAI's key products, including the XR- and TGX-series FCWs that were originally developed by Kobe Steel, were featured on a large screen display. We learned that Kobelco's unique products could attract large numbers of visitors.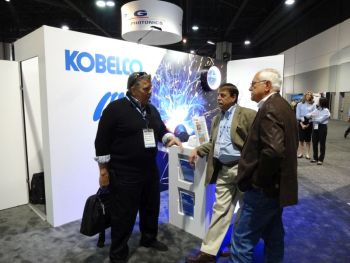 Meeting with clients
With so many welding-related enterprises, from global giants to medium and small niche manufacturers, all highlighting their own unique products, I realized how important it is that our customers learn about Kobelco's latest welding consumables and technologies under the slogan "the most reliable welding company in the world for the total welding solutions." This is the only way to enhance the presence of Kobelco and our brand.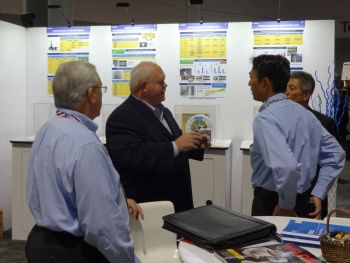 Meeting with clients
Next year, FABTECH will be held in Chicago, where it is held every other year. Dear KWT readers, please join us at the Kobelco booth again. We look forward to seeing you there.
Reported by
Ryusaku (Ray) Yanagimoto
National Marketing Manager, KWAI