The ARCMANTM contributes to reducing the cost of welding work.
Can perform tandem welding or single welding, thereby maintaining a high operating ratio.
Can perform multi-layer welding in each direction, thereby shortening the welding time.
Coordinated movement function enables to work in tandem with the positioner, thereby reducing robot teaching time.
The ARCMANTM improves the quality of welding work.
Detects changes in conditions during welding work and compensates for these changes in real time.
Equipped with a weaving function that ensures deep weld penetration.
Optimal welding conditions can be set for each pass.
Examples of the ARCMANTM being applied for production
CONSTRUCTION MACHINERY
Swing Frame
The four manipulators operate in a coordinated manner in order to achieve a significant reduction in welding time.
Welding can be performed vertically, thus eliminating the need for positioners and workpiece clamping jigs.
Vertical position weld appearance
Arm
Our groove-width tracking function compensates for variations in the groove width during welding and regulates the amount of deposited metal in order to achieve high quality welds.
Tracking the groove width reduces the number of sensing points required.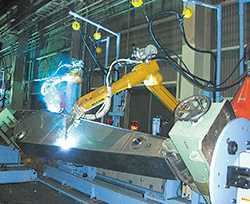 Center Frame
Tandem welding reduces the cycle time by about 40% compared to single welding.
Controlling the welding conditions for the leading and trailing wires is easy, and ensures smooth surface weld beads and sufficient weld penetration.
This is a simple configuration featuring a long arm ARCMANTM XL robot without slider.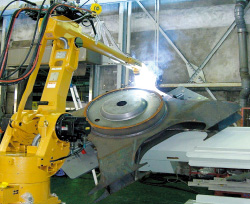 Boom
High efficiency is achieved with a drop-axis positioner, which adopts the optimum welding position for inclined welding lines, together with overhead-suspended tandem welding.
This reduces the working space and can be used for both small and large assemblies by traversing between the face plates.
Bead appearance
BRIDGES AND WATER GATES
Bridge and Water Gate
This configuration employs a long arm robot with a compact carriage, which can handle welding of main girders of widths up to 3 m.
Two-dimensional CAD data can be converted to three-dimensional data, and teaching data can be created automatically using proprietary software.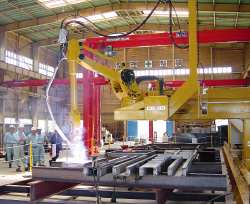 Twin Gantry Type System for Bridge Panel
A pair of robots mounted in opposed positions to achieve highly-efficient twin welding. Good-shape weld beads can be achieved even for box welding.
Functions for monitor-less operation enable continuous automatic welding.
Bead appearance
RAILROAD CARS
Truck Parts
High quality, good-shaped weld beads can be achieved with three-dimensional welding lines by employing a see-saw type positioner with cooperative control function and groove-width tracking function.
Vertical position weld appearance
Truck Frame
With a drop-axis positioner, the vertical motion axis enable the work position to be set lower.
ARCMANTM offline Teaching System can efficiently generate teaching data for complicated assemblies.
Bead appearance
OTHER MACHINERY PARTS
Press Machine/Frame
Utilizing three-dimensional CAD data, ARCMANTM offline Teaching System can easily generate teaching programs for assemblies with particular diversified designs.
Our compact tandem torch enables multi-pass welding up to maximum depth of 80 mm, thereby significantly reducing the welding time.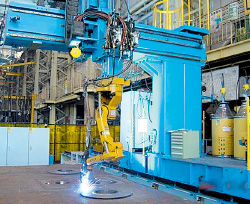 Forklift Parts/Mast Supports
This configuration enables higher efficiency operation of a single system though a pair of opposing positioners.
The operator can use the positioners semi-automatically to complete a residual welding line whilst the assembly is mounted on the positioner.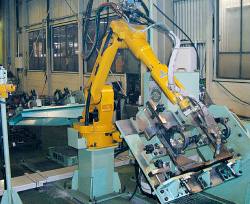 Standard-Positioner Combined
ARCMANTM MP plus drop-axis two-motion-axis positioner (rotation and tilt)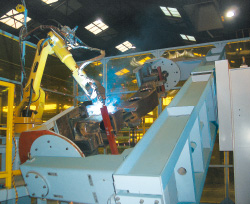 TheARCMANTM improves the quality of weldingwork.
Groove-Width Tracking

The weaving width and welding speed can be corrected by detecting real time groove width variations. This reduces the sensing points thereby contributing to cycle time reduction.
The height of weld reinforcements can be made uniform and the bead width of the cover pass can be regulated.
Laser Root-Gap Measuring System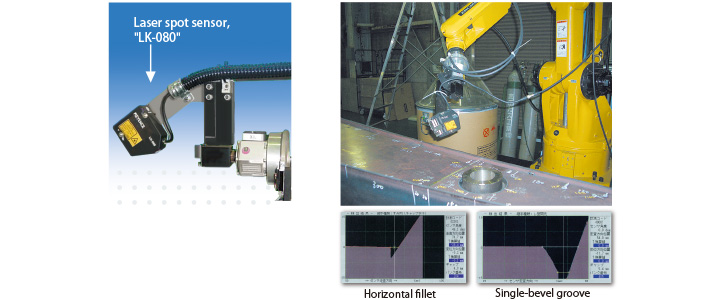 This function uses a laser to gauge the gap and automatically selects the welding conditions from within the data bank.
This system selects the lamination technique,determines the wire positioning, and makes the decision on whether or not to weld according to the measured results.
Arrowhead-Pattern Weaving Function

This function can be applied for vertical-up welding.
This function can be used together with the arc sensor.
This function can also be applied to second passes and beyond in multi-pass welding.
Data Bank Function and Pass-by-Pass Torch Angle Setting Function

Up to 499 kinds of welding conditions can be registered.
This function operates with the teaching points at the weld start and end only, while the optimum torch angle can be set for each pass.
The ARCMANTM contributes to reducing the cost of welding work.
Tandem Arc Welding System

Automatic select function for welding conditions


Once the type of groove, plate thickness, or target leg length have been set, this function automatically selects the optimum welding parameters.

Data bank for welding conditions


Welding conditions for the leading and trailing wires can be verified, edited and stored via the data bank screen.
Dual-arc sensor function

The dual arc sensor detects changes in the currents of the leading and trailing wires, adjusts misalignments of the leading wire, and corrects misalignments of the trailing wire, as well as function in the same way when the leading and trailing wires are operated in reverse. This improves the weld quality and reduces the need for repair welding.
Round-Trip Multi-Pass Welding Function

Since this function performs continuous welding while arc welding is currently being performed, it does not give rise to defects when welding is started or erroneous arc starting. Moreover, since it does away with crater treatment in the middle of arc welding it shortens the time this takes.
The multi-pass welding, which intermittently performs round-trip horizontal fillet-welding, improves the bead shape because it disperses the weld-start convexity.
Coordinated Welding Function

This function synchronizes and coordinates the manipulator and positioner, thereby maintaining a constant welding speed and position.
Maintaining the welding groove in the optimal position improves and stabilizes the weld quality.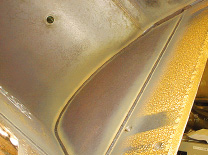 MANIPULATOR
Model: ARCMANTM GS
Features:
The latest models.
Features two models with enclosed cable.
The 1st model with cables enclosed in the upper arm offers the greatest range of motion in its class.
The 2nd model with cables enclosed in the wrist can perform both single and tandem welding by changing the welding torch.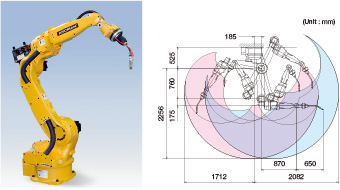 Model: ARCMANTM MP
Features:
Standard model with state-of-the-art welding technologies.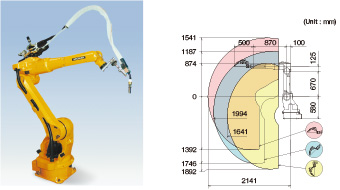 Model: ARCMANTM XL mkII
Features:
Due to its large size and extensive range of motion, the need for a 1629 slider may be eliminated, or the size of the slider significantly reduced.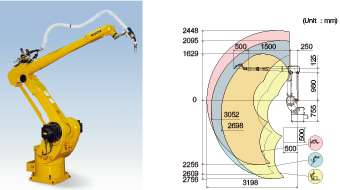 Model: ARCMANTM SR
Features:
Compact size to cover an extensive work area in conjunction with slider.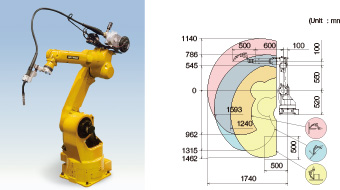 CONTROLLER
CA-Type Controller
Features:
This controller controls the manipulator, positioner, and slider that comprise the system.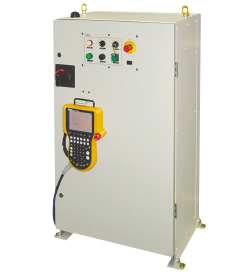 Teaching Pendant
Features:
Backlit black and white liquid crystal screen that displays 15 rows × 40 characters.
Compatible with English and Chinese.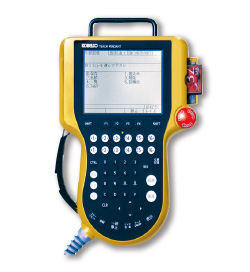 Specifications for CA-type controller
Items
Specifications
External dimensions and mass
600 (W) × 1100 (H) × 400 (D), 100 kg
Number of controlled axes
Robot: 6 axes, Slider: 3 axes (Optional),
Positioner: 2 axes × 2 units (Optional) (11 axes in parallel)
External input/output
Programmable general input: 48 ports, Robot command/interlock input: 57 ports
Programmable general output: 48 ports, Robot working mode/status output: 67 ports
Position-detecting function
Absolute encoder
Memory capacity
Equivalent to 46000 steps (with 13 axes configuration), No battery backup is required.
Interface
Ethernet 2 channel.
SOFTWARE
ARCMAN Off-line Teaching System
Features:
Function for retrieving data from different work model.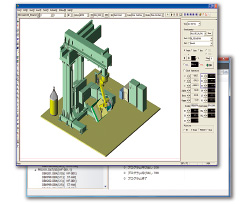 AP-SUPPORT(ARCMANTM Production Support System)
Features:
Program for production improvement「productivity, weld quality, and takt time」.
Help identify possible causes of stop troubles.
Automatically records informations of working data.
WELDING POWER SOURCES
AB500 (designed for robots)
High-performance digitally-controlled welding power source.
Suitable for medium to thick plate welding with various welding modes.
Digital control makes maintenance easier.
Equipped with the extra-low spatter CO2 welding process REGARCTM.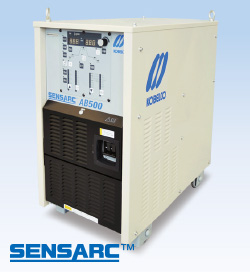 LS350D
Digitally-controlled welding power source featuring extra-low spatter.
The spatter emission rate can be as low as one-third of conventional inverter-controlled power sources.
Developed by integrating current- waveform control with digital control.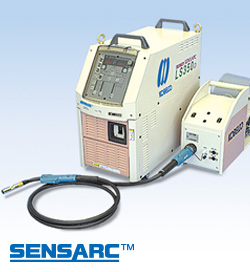 UC500
High-performance CO2/MAG welding power source.
Unsurpassed performance with instant arc starting.
Excellent high-speed welding capability.
Stable arc in low to high current ranges.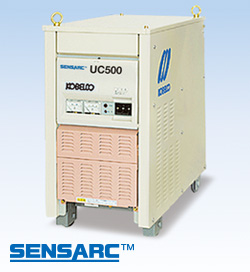 SUPPLEMENTARY EQUIPMENT
GLOBAL NETWORK