※Click images to enlarge.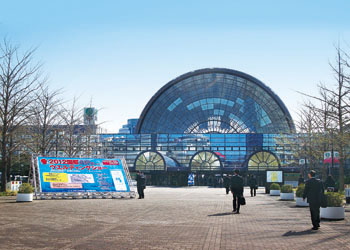 The Japan International Welding Show 2012, one of the world's three major welding shows, was held at the international exhibition center, Intex Osaka, from April 11 to 14. According to the show's organizer, as many as 66,697 visitors, including 2,291 from overseas, attended the four-day event that coincided with the blooming of the cherry blossoms in Osaka and elsewhere in Japan.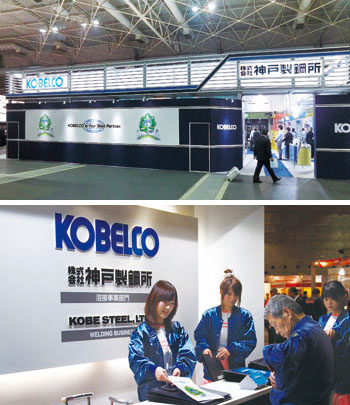 As one of the leading exhibitors, Kobe Steel participated on the theme, "KOBELCO is Your Best Partner," and attracted many visitors to our displays of cutting-edge welding consumables, robot systems and welding processes along with technical welding demonstrations. The Kobelco booth was designed to welcome visitors to four particular spaces: one for demonstrations, one for industry-wise displays, one for the Shinyokai pro-Kobelco sales network, and a lounge for business talk or chatting.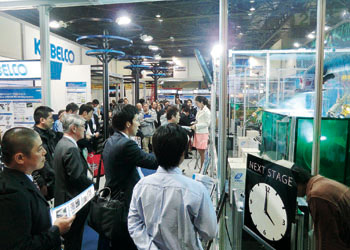 The Kobelco demonstration corner attracts many visitors with cutting-edge technologies.
At the demonstration corner, four different welding processes were showcased by four individual robots. First, at a showcasing of the high-current MAG (Ar-CO2) welding process with our advanced flux-cored wire (FCW), FAMILIARC™ MX-A100D, visitors saw a spray arc with low spatter but at currents so high that a conventional FCW would have generated much spatter. In this process, two SENSARC™ AB500 welding power sources were connected in parallel to generate a high current of 600A or higher for obtaining a high deposition rate of nearly 20 kg per one hour.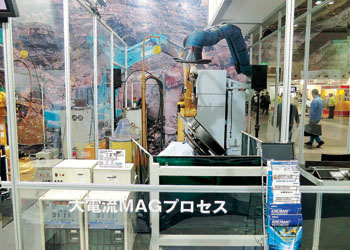 High-current MAG robotic welding with low spatter.
The audience was also interested in the REGARC™ process, which features extremely low spatter with solid wire and CO2 shielding gas by means of the unique current waveform control mechanism equipped in the SENSARC™ AB500 power source. This process was first introduced at the previous welding show held two years ago; since then its applications have been expanding in Japan. In the present show, we emphasized the high level of workpiece accessibility this process achieves in combination with ARCMAN™-GS, a robot with a torch-integrated wrist.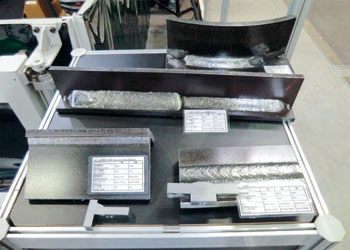 Appealing bead samples with large mass and exquisite appearance.
The third eye-catcher was the MX-MIG process for thin plate welding, which uses a dedicated FCW with a pure Ar shielding gas to create exquisite bead appearance and ultra-low spatter. In lap welding, this process can produce a regular weld bead with smooth weld toes, thereby improving the fatigue strength of the weld joint.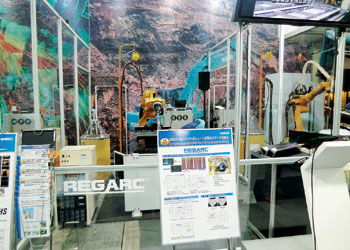 ARCMAN™-GS robot with the torch-integrated wrist demonstrates the REGARC™ process installed in SENSARC™ AB500 power source.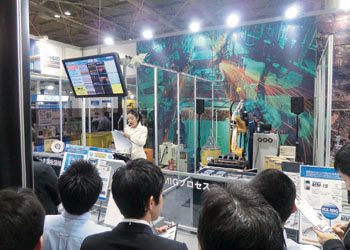 Many visitors listen to the guide demonstrating MX-MIG for sheet metal welding.
The last highlight was the galvanized thin steel welding process, an advanced welding technology that was developed collaboratively with Daihen Corp. and was announced via a press release just last March. This process uses a newly developed power source and a dedicated wire to reduce significantly the occurrence of porosity (pit) in the weld. Kobe Steel stressed the unsurpassed applicability of this process to galvanized thin steel sheets.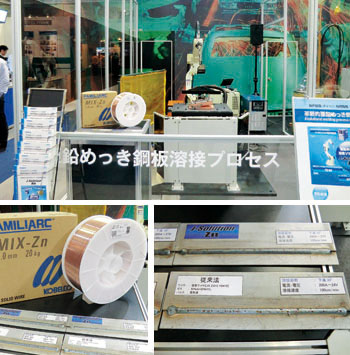 The galvanized steel welding process in a demonstration with the ARCMAN™ robot (top), the dedicated flux-cored wire FAMILIARC™ MIX-Zn (bottom left), and the uniform bead appearance superior to conventional one (bottom right).
At the industry-wise corner for such industrial fields as energy, automobiles, shipbuilding, steel frame buildings and bridges, and construction machinery, visitors could learn about suitable welding consumables and processes in displays of welding consumables, welding equipment, and weld bead samples, in addition to the panel displays.
The elaborate displays and background panels allowed visitors to visualize how welding would be carried out at individual fabrication sites. On display at the shipbuilding corner, for example, were such mature welding devices as the horizontal fillet welding device, Super Animo I, and the vertical butt welding device, SEGARC™-2Z.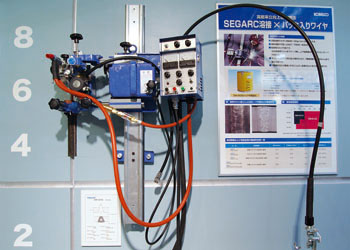 SEGARC™-2Z, an electrogas arc welding device, attached along the vertical butt joint of the simulated hull.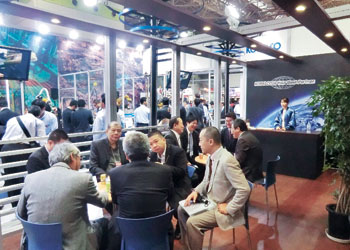 Our lounge corner served as an oasis, where visitors could enjoy business discussions with beverages.
Naoto Terachi
Marketing Planning Section
Welding Business
KOBE STEEL, LTD.