Archive

※Click images to enlarge.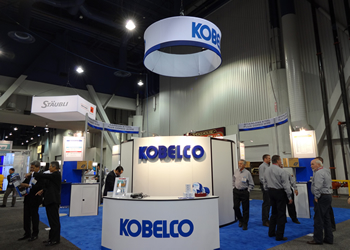 Exhibition booth
FABTECH 2012 is the largest event in North America for metal processing. It was held from November 12 to 14 at the Las Vegas Convention Center, in Nevada USA. It was a great success, with about 1,200 companies exhibiting at a 42,700 square meter exhibition site, with 25,903 visitors from throughout the world. This was slightly less visitors than that held in Chicago over the 4 days last year, but there were 15,500 visitors the first day, which was the most in 1 day in the history of FABTECH. This shows the strength of the US economy, especially manufacturing.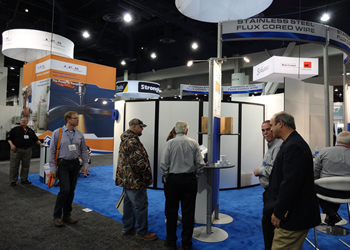 Exhibition booth
This was the 23rd time that Kobelco Welding of America (KWAI) exhibited at FABTECH. We had a new booth design to exhibit our main products, especially our flux cored wire which is praised by North American customers. We introduced our new XR Series stainless flux cored wire, which greatly reduces hexavalent chromium in the weld fume. This wire was developed to comply with US Occupational Safety and Health Administration (OSHA) regulations. It greatly improves the work environment when welding, and many customers are interested.
This exhibition is held each year at a different place. As usual, major international welding related companies exhibited, and customers came from throughout the world to see the latest welding technology trends, coming from North America, Latin America, Europe, Asia and the Middle East. Based on our motto as the "World's most trusted welding materials manufacturer for solving welding problems", we intend to keep working to publicize our latest welding materials and welding technologies, to boost the presence of the Kobelco brand.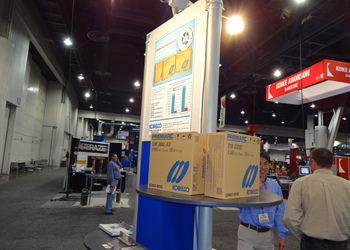 Sample exhibit
Next year, FABTECH returns to Chicago where it is held each 2 years. We hope you visit the Kobelco booth again. All our staff look forward to meeting you again.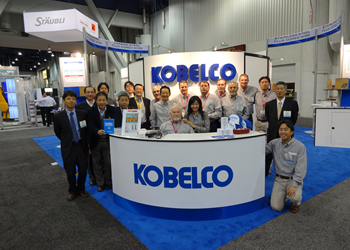 All of the staff
Ryusaku Yanagimoto
National Marketing Manager
KOBELCO WELDING OF AMERICA INC.