Products Spotlight
FAMILIARC™ OW-S50P(E71T-8-H16):Self-shielded flux cored wire for overseas market
The current line-up of self-shielded flux cored wires (self-shielded FCWs) include [F]OW-S50H, used in on-site welding of steel pipe piles in the flat and horizontal positions, and [F]OW-S50T, which is suitable for welding thin plates with thickness of 1.0 to 4.5 mm. They are highly reputed but marketed in Japan only. However, as the pursuit of high welding efficiency becomes a rising global trend, [F]OW-S50P, a self-shielded FCW matching AWS A5.20 E71T-8-H16 has been developed in order to target overseas markets. Table 1 shows KOBELCO ' s line-up of self-shielded FCWs.
Tables 2 and 3 show the chemical compositions and mechanical properties of all-deposited metals by [F]OW-S50P, respectively.
[F]OW-S50P provides excellent bead shape and penetration in all positions. Figure 1 shows the results of butt joint welding in the horizontal, vertical upward and overhead positions.
Figure 1: Results of butt joint welding in all positions by [F]OW-S50P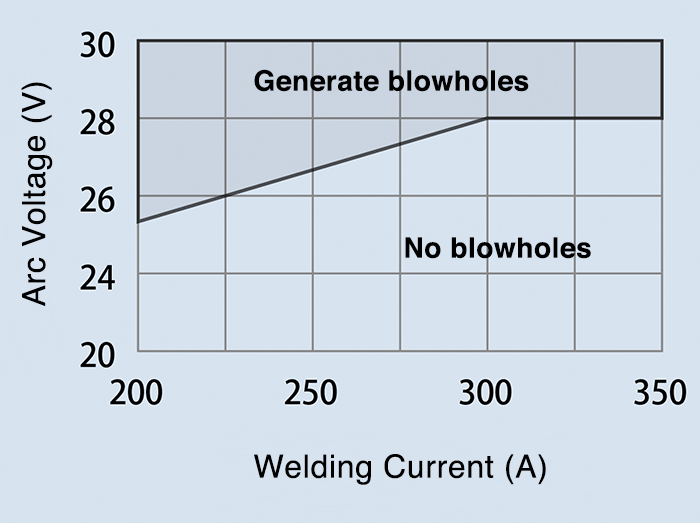 Figure 2: Optimum range of arc voltage by [F]OW-S50P
It can be used for welding 490 MPa (70 ksi) class high tensile strength steels as it has excellent notch toughness down to -30 °C min. Furthermore, good porosity resistance against wind speeds as high as 10 m/sec makes welding in strong outdoor winds possible.
However, maintaining the arc voltage within the optimum range is necessary; because porosity defects are likely under the welding conditions exceeding the optimum range of arc voltage as well as arc length as shown in Figure 2.
[F] in trade designation indicate FAMILIARC™ respectively.